Your source for professional Maine graphic design.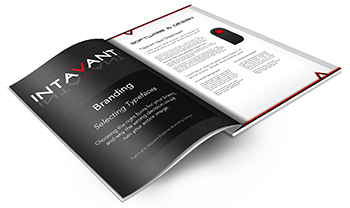 Intavant has helped create brands, marketing collateral and business media for hundreds of businesses and professionals.
Our experienced designers utilize the latest tools and years of experience to create stellar designs for your business. We follow the strictest industry standards for print and display, so you know your business cards, brochures and postcards look perfect when they hit the press.
Your brand name represents the integrity of your business – you can't afford to cut corners.
Graphic Design Services
From logo redesign to total branding, we'll help you develop the graphics and marketing collateral you need to make your business stand out.
Business and personal branding packages
Color development, industry-standard palette selection & print-ready color matching
Custom logo designs for print and Web
Custom business card designs
Custom brochures, pamphlets, handouts and postcards
Custom letterheads and business documents
Typography selection and font creation for print and Web
Digital & physical product package designs
Custom infographics, professional business graphics & presentation media
Graphic Design Software & Tools
Intavant uses the latest industry standard design tools to create amazing graphics backed up by dependable digital formats for future revisions and archiving.
We can work with files in all of the key graphic design suites, such as:
Adobe InDesign CS6
Adobe Illustrator CS6
Adobe Photoshop CS6
Adobe Acrobat (PDF creation and formatting for production)
CorelDRAW X6
And more…
If you have existing graphics to work with, we can help you convert them to a modern format and optimize them for Web, print or vector use.