Even if you don't celebrate Earth Day, Google does. And you're sure to be enticed by a completely free screenshot of them doing it! We already celebrated Earth Hour with Google, so let's move on to bigger and better things with Earth Day!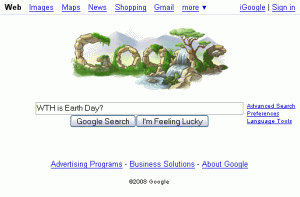 So are we soon to see Google adopt an Earth Month logo? And then an Earth Year logo? An Earth Decade logo? And when they start to rapidly overlap, will we be barraged with a veritable plethora of eco-friendly Google logos?
Now that will be one screenshot worth being idly enticed over.