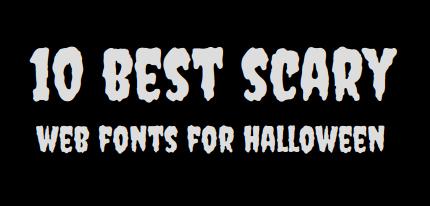 Need some scary Web fonts for your Halloween Web design? There are hundreds of high-quality and free Web fonts from Adobe Edge Web Fonts and Google Web Fonts. You can browse all 500 Adobe fonts on the Edge Web Fonts List. But, since you're likely to pass on from this Earth before you ever finish browsing every single font, I've put together this collection of the ten scariest Web fonts for your Halloween Web designs.
To use the fonts, just copy the <script> code below to your site's <head> section. Then you can use the font-family CSS attribute to use the font just like you would any other font. Read full instructions here.
A little bit intimidating, a little bit hard to read, and a lot scary.
#2 – Creepster
Gives me the creeps.
Just imagine this says "Death Notice". I know, it got a lot creepier when I did it too.
#4 – Eater
I do get a little worried about being eaten when I look at this font.
Just imagine it… in red.
#6 – Astloch
I'm not actually sure what's going on with this font. It's either really creepy,
or the logo for a new medieval sci-fi romantic thriller.
This should have been titled creepy serial killer scrawls.
#8 – Emily's Candy
Halloween for little girls.
A fun, messy font. Nothing that's going to give you nightmares. Unless you're a little girl. A really timid little girl with typographobia.
#10 – Frijole
It just gives you the jitters because it's so darned jittery looking!
There you have it. Now instead of searching for fonts, now you can go trick-or-treating, or scaring trick-or-treaters, or just eating.